UseCrypt Nation is a decentralized social company where each participant decides on the fate of an organization. According to the assumptions of DAO (decentralized autonomous organization), by joining UseCrypt Nation you become an integral part of our ecosystem and, in turn, part of the company. The main goal of the company is to restore privacy and put the assumptions of social capitalism into practice.
Technologically, UseCrypt Nation offers the first decentralized communication system that eliminates intermediaries between people: in terms of voice and video calls, text messaging, email, and the cloud. All this is provided by 6 new tools: UseCrypt Safe (new cloud and email), UseCrypt Live (TV and social media), UseCrypt Messenger (messenger), UseCrypt Video (new video), UseCrypt Mindest (new fashion), SoCap (new currency which will be the main payment method in our ecosystem- coming soon).
UseCrypt Nation was founded by Pawel Makowski, a visionary, activist, exceptional, creative mind, and serial entrepreneur with success in reaching specialized investors in industries ranging from FMCG and luxury goods to advanced technology and IT. He manages and advises several private equity funds.
He is the founder of UseCrypt, a majority stake that was purchased in 2019 by the U.S.-Israel Lazar Vision Fund, led by Mitch Lowe, one of the principal founders of Netflix (2021), who invested in UseCrypt. UseCrypt technology has been used by the Principality of Monaco, among others. Pawel Makowski has been active in the European market since 2004. In the past, he was chairman and board member of two companies listed on the Warsaw Stock Exchange.
Currently, as part of the #bringingprivacyback movement initiated, he created a YouTube and TikTok channel about freedom.
And it is freedom and equality that he has put into the mentality of UseCrypt Nation. There are no owners here, there will be no presidents. Pawel knows that only social capitalism can define all of society's pre-existing attitudes.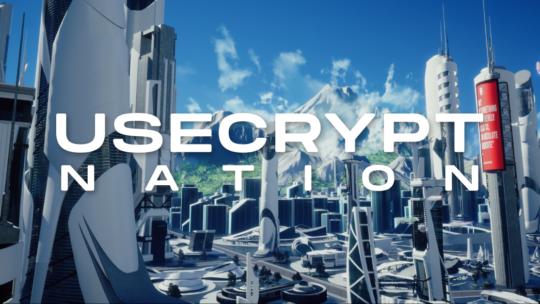 A place where every participant becomes a partner.
There is an entire constitution that is a list of moral values for the future citizens of the metaverse
UseCrypt Nation was created because Pawel Makowski and his fellows were tired of separation. Enough religious, identity-based, economic, and political division. Enough aggression, verbal abuse, greed, war, bloodshed, and hatred. The idea behind UseCrypt Nation is that everyone has a right to privacy, and personal and economic freedom and that users have a right to participate in increasing the value of companies that want to grow because of users.
"This is your step into the future. Stop tolerating injustice. Don't be a pawn, become a player. A team player," Pawel says. That's why he created UseCrypt Nation, not as an organization, but as the first digital nation in metaverse
UseCrypt Nation is created by 20 people — the best graphic designers, copywriters, project managers, and cryptocurrency experts who work on our metaverse every day. Our metaverse is a city in digital reality. It will look like a city with neighborhoods. Each neighborhood represents a different issue important to the UseCrypt Nation community (the foundation of UseCrypt Nation's existence).
In each neighborhood of the city, people will be able to create their surroundings, their businesses, and their activities — through avatarisation. Collaboration between people will be possible with the tools that UseCrypt Nation provides. By getting a passport in our universe, you automatically become an equal partner and can take part in its further development.
UseCrypt Nation is not just a virtual world. This is a new page of history. You can open your own business, sell your products or meet your friends here! UseCrypt Nation makes it all possible – says Pawel Makowski.

UseCrypt Nation
website/twitter/discord